PAPA 12 World Pinball Championships
Each year, PAPA operates the largest, most competitive pinball tournament held anywhere in the world, bringing more than a thousand players and spectators from around the world to enjoy four solid days of brutal pinball battles. And, of course, to have a flipping good time!
PAPA 12 was held August 13-16, 2009
Repeat World Pinball Champion - KEITH ELWIN
B Division - Ed Zeltmann
C Division - Blair Love
Juniors Division - Justin Ortscheid
Seniors Division - Rick Prince
Detailed Final Results available
Final Qualifying Standings available
Total Points Scored in All Divisions: 1,933,847,749,592
Money Raised for Bow Wow Buddies: $1,821.50
Players of all skill levels are welcome. It's fun just to come watch or play the practice machines. Although PAPA is not a "show" in the usual sense, there is something for everyone. The tournament provides not only the opportunity for terrific competitive play, but also anyone is welcome to browse the machines, play for coin drop, meet other players, and watch the competition.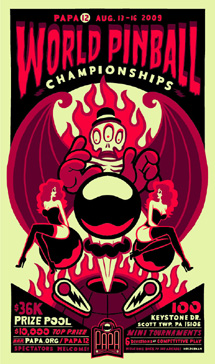 To subscribe to our newsletter, click here!
PAPA 12 is also a great place to play challenge matches for the PAPA Advanced Rating System!
Hotel and travel details are available. Online registration is available! Registration will also be available on-site. Spectators are also welcome, at no charge. (Non-tournament machines cost 50 cents to play.)
You may wish to read about our past tournaments using the links to the right.
Have Questions? Send us Email!
Remember, players of all skill levels are welcome and are eligible to win!